Good Source Of Low Fat Protein
Eating a good source of low fat protein with every meal and snack could be the key that unlocks the vault to your weight loss and excellent health...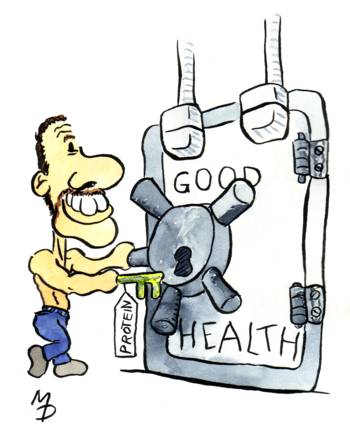 The Protein Key
Free Audio MP3 Download Link 1 Download Link 2 Download Link 3 Download Link 4
Health information can be complex, illnesses can be hard to diagnose and sometimes it seems the secrets to good health are sealed in a solid steel bank vault.

If health secrets are sealed in a solid steeel vault eating low fat protein with every meal and snack is one of the biggest keys.




Protein Is Essential
For A Whole Range Of Functions In
Your Body...
These include building muscle, vital tissue, hair, fingernails and more but in day to day terms protein may have a more immediate effect...
When you eat protein this stimulates the production of a hormone called glucagon. Glucagon stimulates the production of type I or "good" eicosanoids.
These good eicosanoids directly or indirectly influence nearly every function in your body.

Having too many type II or "bad" eicosanoids and not enough good eicoanoids in your body could be a major factor in most chronic disease.




Diseases Linked To These
Bad Eicosanoids Range From Heart Disease And Arthritis
To Asthma And Major Depression...
So to help keep this vital eicosanoid balance under control eat high protein foods with every meal and snack.

Eating animal fats may not be so healthy so you should probably lean towards low fat choices of protein.
Good sources of low fat protein include fish, seafood, chicken breast, turkey breast, tofu, and whey protein isolate.
But don't eat too much at one sitting. A basic guideline is to have low fat protein around the size and thickness of the palm of your hand with every meal...




The Most
Important Letter You'll Ever Read If You
Want To Lose Weight!

Read This Letter Right Now And Claim
Your Limited Time Gifts...
$175 Of FREE Cutting Edge Books And Reports
On Health And Weight Loss
Natural healthy weight loss guaranteed...